Description
This board is under development
The Super Nintendo: USB-C Kit is a board that allows to replace the original power connector for a modern and standard USB-C.
If your original connector is too old or damaged and you need a new one, or if you would like to power up your Super Nintendo with a standard USB-C charger, such as the charger for your Nintendo Switch, phone, or laptop, you can do so with this kit.
Moreover, with this board, you can remove the original, old, and inefficient power converter. Since the console operates at 5V, you only need the power from USB-C and a regular charger.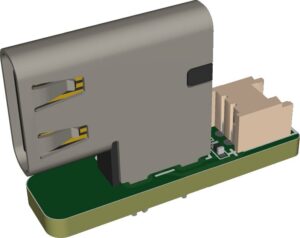 FEATURES
Exact shape for Super Nintendo / Super Famicom.
External power through USB-C. (1)
(1) The USB-C requires trimming of the shell.
INCLUDED
1 USB-C board.
1 Power cable (with connector JST 1.25 2P)
1 Plastic holder for USB-C board.
REQUIRED (NOT INCLUDED)
4.5mm gamebit and phillips screwdrivers.
Tin soldering iron.
Tin
Flux
Isopropyl alcohol
NOTES
TODO
DOCUMENTATION