Description
This board allows charge the battery and take the audio out with a USB-C earphone (or use them with a USB-C to jack audio adapter)!
However, this board it's extremely small and you will need to solder 6 small pads. So, it can be a bit difficult.
FEATURES
Charge your Game Boy Advance SP by USB-C.
Play the sound using a USB-C adapter to Jack 3.5mm.
INCLUDED
1 board.
1 plastic cap to cover the hole.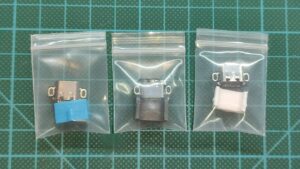 REQUIRED (NOT INCLUDED)
Cutting plier (optional)
Tweezers (optional)
Tin soldering iron
Tin
Flux
Isopropyl alcohol
NOTES
Important! USB chargers with cable USB-C to USB-C (link) may NOT work because the board doesn't have the resistors to indicate the device is a normal device, not a modern with fast charge feature. (The resistors are not included in the design because that disables the audio feature).
The USB-A to USB-C cables/chargers has full compatibility! (check here)

Due to the difference between different monitors, the picture may not reflect the actual color of the plastic cap.
The USB-C earphone or USB-C adapter to Jack 3.5mm must be without any DAC inside, just analogue device, otherwise it won't work. For example these ones work perfect:
DOCUMENTATION