Description
The Game Boy Color USB-C Charging Kit PRO is the new circuit for Nintendo Game Boy Color. This time is all in one circuit and includes not only the charging controller but also a boost converter and audio amplifier.
The modern IPS displays with background light require more energy than the stock display. Also, the flash cards to load tons of games consume the battery very fast. If you really want to enjoy the games, the best way to do it is using a rechargeable battery instead of AA batteries.
However, that is not enough because a higher consume is forcing the original electronic to strive more than it can. That may cause noise in the speaker or headphones.
Typical solution has been adding a charging circuit for the battery and a power converter to replace the old and not efficiently one which is included in the GBC. Some people also add an audio amplifier to hear better the speaker sound. All these things make the GBC perfect, however the installation require a lot of cables and can not be easy for some people without enough knowledge.
Typical installation of the 3 modules: Photo by Sascha
This board add all these features with a clean and easy installation:
The board includes the following ICs
TP5000
TP5000 is a switching buck single lithium battery charge management chip. Its QFN16 ultra-compact package making the TP5000 is ideal for portable equipment large current charging management applications. Meanwhile, TP5000 built-in input overcurrent, undervoltage protection, over temperature protection, short circuit protection, battery temperature monitoring, reverse battery protection. (datasheet)
MT3540
The MT3540 is a constant frequency, 5-pin SOT23 current mode step-up converter intended for small, low power applications. The MT3540 switches at 1.2MHz and allows the use of tiny, low cost capacitors and inductors 2mm or less in height. Internal soft-start results in small inrush current and extends battery life. (datasheet)
PAM8302A
The PAM8302A is a 2.5W Class-D mono audio amplifier. Its low THD+N feature offers high quality sound reproduction. The new filterless architecture allows the device to drive speakers directly instead of using low-pass output filters, therefore saving system cost and PCB area. (datasheet)
FEATURES
Exact shape for Game Boy Color.
Li-Ion battery charger by USB-C with protection for charging level and overdischarge.
DC to DC converter (only 5V output, not compatible with the original display).
Audio amplifier for the speaker with a potentiometer called VR1 to setup the maximum volume.
Integrated LED indicators on the main board, next to the USB for charging battery (red) and full battery (green). It can be

disabled

by the jumper SJ1.
External LED indicators board for playing (white), charging battery (red) and full battery (green). Optional installation.
INCLUDED
1 frame board which includes the charging and light board.
1 Battery cable.
1 Cable of 3 wires for connecting the light board.
1 Cable of 1 wire for connecting the board to the sound pad.
1 New light diffuser (since 2022-09 v2.2)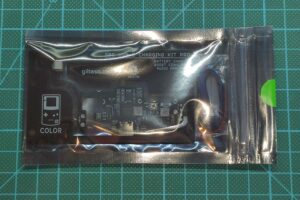 REQUIRED (NOT INCLUDED)
Li-ion battery (for example 123048, perfect for an IPS V3 laminated screen shell)
New speaker 8

Ω

1W (optional but recommended to avoid noise, for example this one)
New capacitors (optional but recommended to avoid noise, for example these ones)
Cutting tool (optional but recommended)
Tweezers
Tin soldering iron
Tin
Flux
Isopropyl alcohol
NOTES
Check the compatibility tab to be sure your GBC is compatible with this board.
DOCUMENTATION