Description
Once your Game Boy Advance SP battery has gone bad, and you start to look for a replacement you will see it's impossible to find original batteries since they expire if you don't keep charged with a minimum level of charge.
Compatible batteries may be an alternative. However, some manufacturers  may lie with the real capacity or their quality is not good enough.
If you have changed the screen for a IPS screen, or the charging port for a USB-C port. I'm sure you will also want to replace the battery and make your GBA SP perfect. This kit helps you to install any li-ion battery, however the best option is the 603048 which has 900mAh, that is 300mAh more than the original!
Short video of the installation, the whole video down in the documentation section:
FEATURES
Exact shape for Game Boy Advance SP.
Protection circuit of over-discharge.
INCLUDED
1 Board
1 Plastic adapter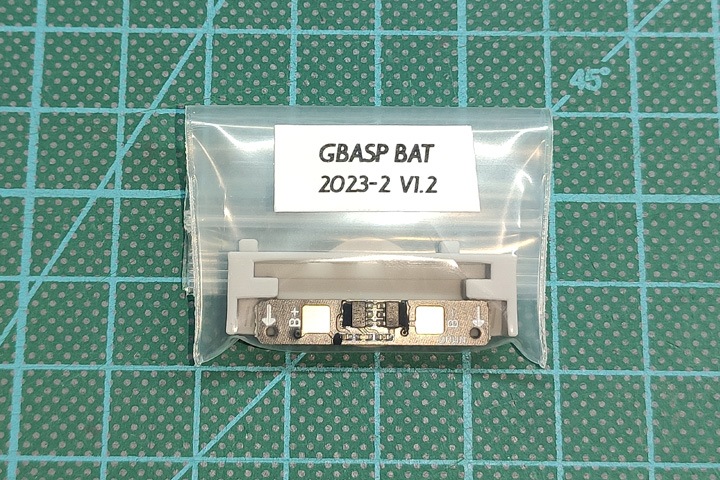 REQUIRED (NOT INCLUDED)
Li-ion battery, recommended this one: 603048 of 900mAh
Phillips screwdriver
Tri-wing screwdriver (optional)
Soldering iron
Tin
BATTERY LIFE
The next table shows the total of hours the original and recommended battery work. It was executed in three different GBA SP, with no sound and the same original game.
Original battery
603048 battery
Min. Brightness
Max. Brightness
Min. Brightness
Max. Brightness
Game Boy Advance SP (AGS-001)(1)
–
–
28h
14h 45m
Game Boy Advance SP Backlight (AGS-101)(2)
–
7h
20h 30m
10h 45m
Game Boy Advance SP (IPS V2)(3)
3h
1h 30m
7h 30m
3h 30m
(1) Brightness levels: 0 & 1
(2) Brightness levels: 1 & 2
(3) Brightness levels: 1 to 9
NOTES
In general, li-ion batteries already include a protection circuit of over-discharge, you will need to replace the soldered in the battery for the provided with this kit. Check the Installation guide PDF for more details.
The red solder mask drops in both sides of the board protect the circuit of short circuits when you solder the battery legs. This will be in black color like the circuit, not red.
DOCUMENTATION